We predict that many online users are going to shop on social video apps such as Instagram and TikTok in the future. Whether you're purchasing a packet of instant noodles or a high-end designer sweater, it is prominent that short video clips are the future of e-commerce thanks to their new "buy now" feature which is becoming increasingly popular. Apps such as Instagram have developed tremendously over the years, and Instagram has transcended its platform to appeal to all kinds of influencers, advertisers and brands. The popular photosharing app reached a milestone of one billion active users in 2018, which justifies why 71 % of companies in the US are utilizing this cost-effective marketing tool to reach a wider audience.
Bridging the gap
A 2018 survey found that 85% of millennials in the United States purchased a product or service after watching a video. This statistic proves that video plays a pivotal role in the decision-making process amongst consumers since it provides extensive product information, a personal review and real-life footage of the product/service in its pure form. Also, video apps have the ability to bring communities together as they allow users to share their experiences and ask fellow users questions. Incorporating a checkout feature to video platforms makes perfect sense since it helps to develop the customer journey, enabling them to make a smooth payment transaction directly from the video. Furthermore, comments associated with it will assure customers of their purchase.
Companies in Asia are already monetizing from short videos. One in particular is Taobao, China's largest e-commerce platform, which has 42% of its product pages embedded with short videos, and live streaming is developing quickly. Between January and August 2018, Taobao made over $150 billion in revenue via live streams – a 40% increase from the previous year.
Instagram's checkout feature
Western brands are already making significant moves into the e-commerce sector with Instagram's "checkout" feature, which is reported to be worth $10 billion in annual revenue. The new checkout feature will enable users to shop directly from their favourite brands without leaving the app. This feature was initially made for images which would appear on users' newsfeeds until they later incorporated it into stories (a video that lasts up to 24 hours, similar to Snapchat).
Images that display a small shopping bag icon located at the bottom left-hand corner of the screen indicate that products in the image are available to purchase. Once users tap the image a label(s) will instantly appear in front of the featured item highlighting the product's name and retail price.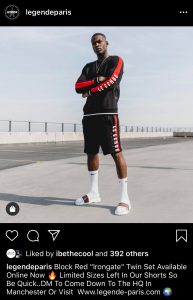 Once a label has been selected users will then be directed to the product listing page where they will have access to product information, images, featured products and recommendations. Once a user has selected their desired item they then need to click on "view on website", which takes them directly to the company's website on that particular item page where users can finalize their purchase.
Credit: Legende Paris
Here are statistics demonstrating why businesses should consider using Instagram to develop their business and expand revenue:
Instagram has 1 billion active users with 500 million them using its platform daily
Is the 2nd most engaged network and generates 4x more interactions than Facebook
500 million users use Instagram stories each day. 1/3 of the most viewed IG stories are from businesses
83% of users discover new products and services on Instagram
Instagram helps 80% of its users to decide whether to buy a product or service
50% of its users follow at least one brand
TikTok
Following Instagram's footsteps, the Chinese social media platform TikTok (formerly Musical.ly) announced last month that it would allow shoppable links in its videos. TikTok already runs shoppable ads,  meaning that users have to purchase directly from the creator's Amazon page. However, the new shoppable link feature allows influencers to place social commerce links within their posts. With Tiktok adapting to social commerce, it's apparent that they want to appeal their business to potential advertisers and creators wanting to capitalize on their content.
Social commerce
Nowadays, social media is recognised as more than just an entertainment platform; It's a tool that is utilised by businesses to measure the results of a marketing strategy. Over the years, social media has evolved simultaneously with technology to provide its users with more features that will deliver value to their everyday lives. So, features like the new buy now option are excellent since many online users are using video on social media platforms to research products and services before they buy, which highlights a significant opportunity for E-commerce sellers. So, be sure to get your company signed up on a video platform.
If you need any ideas on what type of videos to create and upload then take a look at Andreessen Horowitz's blog which covers a range of fascinating ideas that will help spark an interest with your audience.